Picture by Beya on the Bright Brussels Night. Valentine´s Friday 2020
Haven´t read a novel for some time; tried a few from my bookshelves that people brought or rather dumped here, no catch. Then, in the corner of the yoga studio, my eyes fell on a cover of Homecoming by Susie Steiner. Books can be exchanged at the BYP centre but I finally downloaded my copy into the reader.
At the beginning it was difficult to hook on, then at some sentence or paragraph I suddenly found myself immersed. The magic of fiction is working and I am glad my intuition is sharp in this area. Yorkshire farm, two brothers, family dynamics charged with many emotions, dramas, passions. For me, the book is about our alienation, the cut-off relationship to our bodies, feelings, needs. A wonderful coming home of a lost son story. Like a relationship, a story needs patience, attention, focus. Reading on, sometimes switching back to Bradshaw´s Creating Love.
Still recovering from a nose-ear infection but functioning again. First down-dog was not only pain, but also territory regained. Contemplating yoga practice these days: it is good that asanas are challenging, if they become casual, it is the moment to dive deeper in them. Each yoga school has the master parts and the pitfalls. Viniyoga is a great safe base with the attention to breathing and carefully constructed sequences with a concrete purpose. The downside is that one can stay on the safe side with it, practice in a kind of a comfortable trance and reinforcing habitual paths. Whereas yoga is anything but habit, it invites into less trodden territories. I do Ashtanga a couple of times a week – rigorous, rhythmical, it leads me into poses which I need to deepen – backbends, forward bends in combination with hip openers. And I love all kinds of flows José suggests in his big classes. With a sore nose, every breath was a pranayama. Slow twists at home, they enhance metabolism and organs. According to Ayurveda, any dis-ease leads us back to the belly. Healing is a multi-petal lotus, it is a combination of attention, intention, acceptance and letting go.
Why does western medicine see healing as a fight? A pertinent question. Medicines are here to enhance the system naturally opting for harmony. Emotions are here to be heard, not fought. Anger or sorrow connect us with the deepest parts of ourselves, and with the belly again.
A huge part of western medicine also fights other approaches and therapies. I understand, there is a lot power game and manipulation in the world of healers. But that exists in the classical medicine, too. And confusion, but confusion can be a healing tool itself, it brings a good dose of doubts, questions the all-knowing ego, it is a creative material.
Haven´t been this confused for a long time – but the difference is – I bring consciousness into the confusion and that transforms everything. Conscious confusion is quite fun, nothing is sure and the part of me called Madam Wise is silently sitting in the corner. She is there, otherwise I would not be writing this in the Boitfort spa between rounds of salt-infra-red saunas. The garden outside looks winter like, but the air is mild. The Brussels airport is a stone-throw away from here, so silence mixes with roaring of planes taking off. Red hearts everywhere, Valentine weekend. Last night, on Friday I came home to the cold dark flat and found a bunch or roses on the dining table. Modest, pale pink and green ones that I love, in a blue vase made by my friend Bibi. No note, not necessary. I knew. Tears, like everything, bring sadness and joy in one.
With gratitude to Deepak Chopra and the bunch around him for creating numerous bridges to healing and with love to all Travelers through Light and Darkness and back.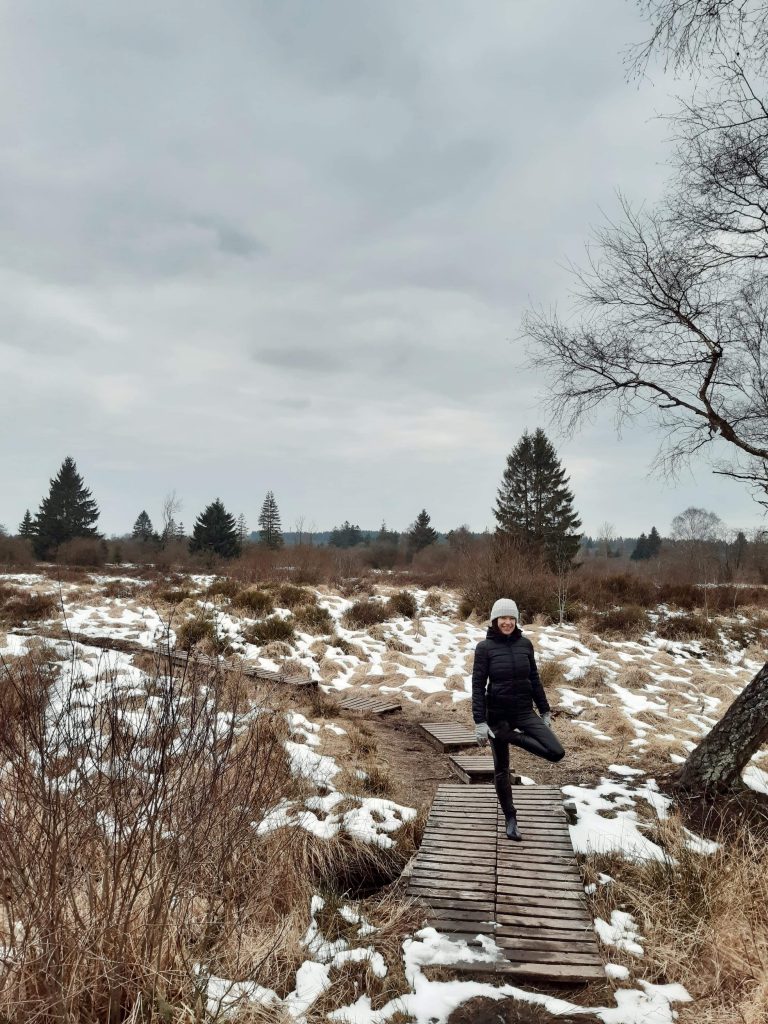 Three days of recovery – walks, food, laugh.